Stokke Stroller Winter Kit
Stokke Stroller Winter Kit
Usually Ships the Next Business Day
Keep your baby warm the Scandinavian way!
Keep your baby warm the Scandinavian way
For Winter, we have designed this season's most functional and beautiful outerwear… for your Stokke® stroller. The Winter Kit is a stylish way to keep your baby warm when temperatures drop. Your child will stay snug and protected from cold weather and wind, while enjoying the wonders of winter. We have been thinking of you as well; warm mittens that attach to the stroller handle with genuine sheepskin rims and soft fleece lining keep your hands toasty during your strolls together. The Winter Kit Collection for the seat of Stokke® Crusi™, Stokke® Trailz™ and the Seat and Carry Cot of Stokke® Xplory® includes sleek quilted detailing and is available in Pearl White, Onyx Black and brand new Bronze Brown. The textiles have a subtle shine for a sophisticated look. Our designers have carefully coordinated absolutely everything you need to stay warm and look hot this winter!
• Insulated canopy for cold weather protection
• Storm cover to keep your baby warm in winter wind
• Genuine sheepskin rims
• Removable mittens that attach to stroller to keep parent´s hands warm
What's included: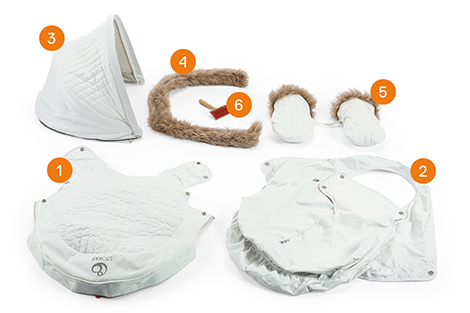 (1)Seat Rear Textile Cover (2)Storm Cover (3)Canopy (4)Canopy Shipskin rim
(5)Hand Muff (6)Stokke® Sheepskin Brush